This week's furry art brings fantasy, magical ladies, and even a dash of sci-fi wonder. 
Already near the end of April! Hard to believe we're here so fast. And April has been hitting it strong with some pretty neat pieces. This week is no exception, so let's get straight into things and see what there is to offer for the top seven picks!


7. Be Not Afraid
Starting things off is this exotic, almost magical looking feline lady. There's something about it I just find really magical and calming about it. Most likely it's the various trinkets and jewelry she's wearing coupled with the bright light in the background.
The design and the title both come together to remind me that I don't need to panic, especially with the face mask and some of the other things going on in the world. Plus those symmetrical eyes are really trippy.
6. The Willow Tree, She Spoke to Me
What a coincidence! I talk about Luthien needing to be on the list more last week, and she ended up on it! I didn't go digging for this one either; if you check the date you'll find it did come out this week.
I like deer, I like plant themed art, and I like lovely ladies; put them all together, and you've got a ranking picture for this week! It has more going for it than that, though, with Luthien's usual professional-level skill showing through. I really love the green in this picture too! It's so lush. And mind you, that's not digital done up like traditional, it's 100% bonafide hand drawn.
5. A New Hope Love
Dan Syron is a super talented artist, and they never disappoint when they pop up on my timeline. And this time? We've got a picture that's pure "awwww!"
While there is some debate as to if Flick and CJ are domestic partners in Animal Crossing: New Horizons that doesn't really matter too much in the world of fan art. And not only is this pic really cute, it's also highly detailed. Cute love-struck eyes, awesome colors, and a nice perspective, this picture has it all.
4. Panderian Fire
I honestly never played World of Warcraft that much, but that doesn't mean I can't enjoy any anthro fan art that crosses my timeline, such as this lovely Pandaren.
Xuzaxuza brings the fire with this one, with lots of intricate detail and some nice coloring. The lighting is fantastic as well, and I love the way the artist rendered the fire magic.
Before we get into the top three pieces, let's take a look at some other great art I found.
Feeling thirsty? Check out this nice punk furry lady bar patron. Do I see The Ramones?
This Springtrap/Glitchtrap pic is pretty creepy! I never had a chance to play Help Wanted but I love the way Karthux made ths guy look ragged and stitched up.
Heat up the dance floor and get dancing with this bright and cheery piece!
Apparently it's become a sort of meme to do a mock up of album art featuring KK Slider and other Animal Crossing folks. I might have to look more into this.
Is that…fan art for The Crown of Leaves? I don't think I've ever seen that yet!
Some pretty neat finds right? Let's get onto the top three:
3. Lady Ferret Spellcaster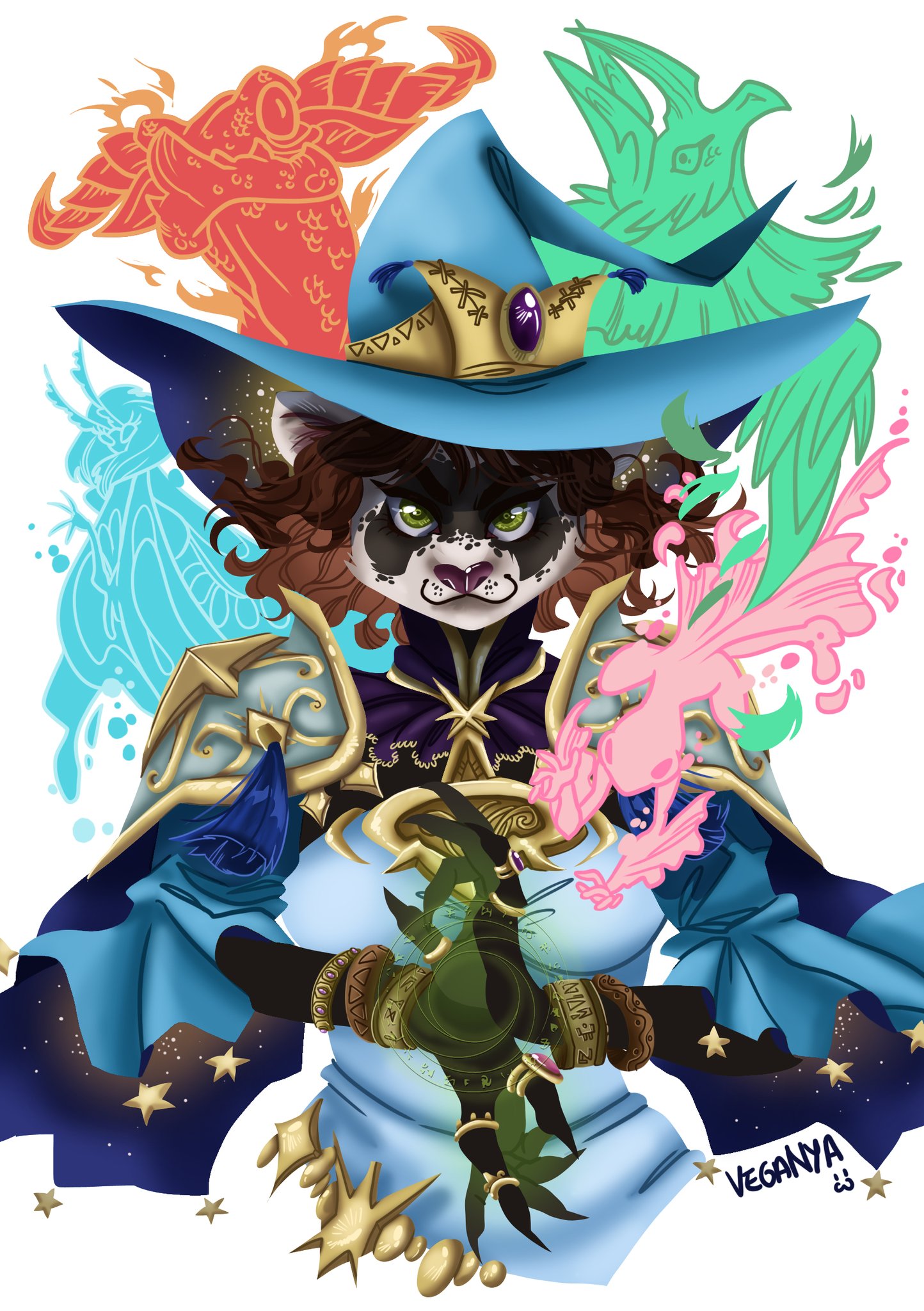 Vega Nya is back to bend the mind with more great arwork. Watch out for that :3 signature!
There's so much I love about this visually. It's a fun piece to look at because there's so much movement going on with things. You got the hands locked in a magical pose, the flowing cape, and the different familiars going in different directions.
Speaking of which, I like how they were rendered slightly different from the Ferret. Lends itself to that otherworldly feel.
2. Take My Hand
A Robin Hood drawing? How could I say no?!
But Desu Box's piece has more than childhood nostalgia going for it. It's got a but of a unique look to it, and whiile the colors look a little bright, they're not too bright, so it avoids that high-contrast look. Robin looks as cunning as ever, and Maid Marian as love struck as ever.
It's got so many things going right for it. Well done!
And the #1 pick for this week is…
1. Transduced Mega City 02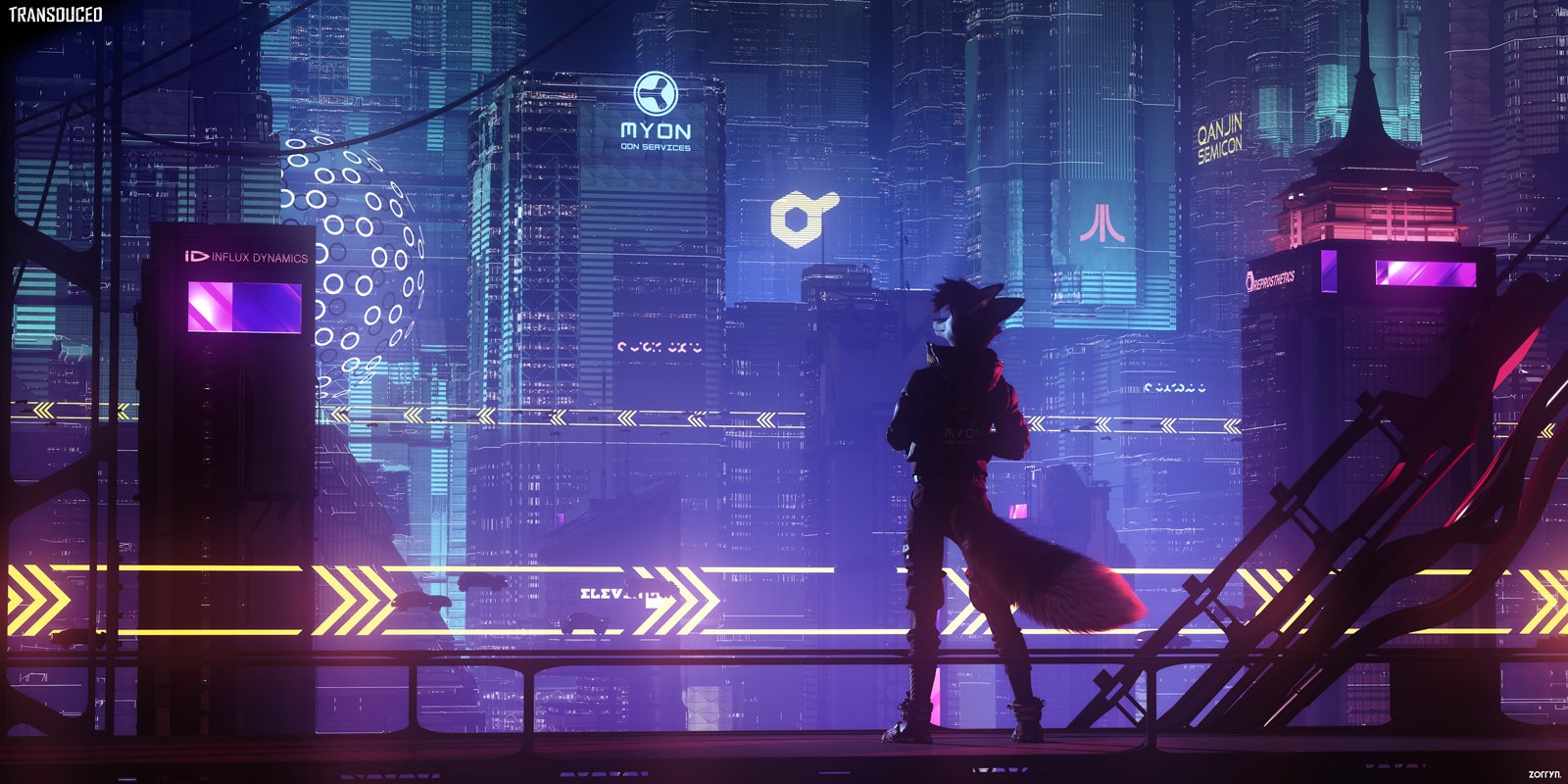 What? You thought I teased scifi techno goodness for no reason? Zorryn takes the #1 spot with this dowright impressive cityscape of something right outta your favorite scifi feature. There's just so much going on with it, so much detail, so much glow, so much awesome!
While the main anthro may not be centerpiece, it's still an amazing piece nonetheless. Don't write that anthro off yet; if you check out the source link you'll see that there's a fair amount of rendering and detail done to them too.
I normally don't feature 3D pieces on here (I think it's 3D), but after seeing this, how could I say no? It's just that good! Well done Zorryn and congratulations!
And that wraps up this week! We've got a…5th week of art in April. It's 5th because the way I count weeks in a month is about as inconsistent as the themes on this series. But that means April's got one more week to knock it out of the park with more awesome art!
A special shout out to the other six featured pieces for jobs well done. And to those not on here, as always remember I'm just a random bunny with my own favs. I'm sure there are folks out there who'd rank you #1! Just keep going and don't give up!
Until next time!