Cozy baths, cuddles, and water-based action are featured in this week's list.
May seems to be rolling out some strong pieces so far. Last weeks was pretty spectacular, with lots of color and cuteness, so I was excited at the beginning of this week to see what would be offered. Now then, let's jump right into this second week and see what's in store.
7. Sublime Suds
Starting things off is this cute little bat taking a nice bubble bath. Y'know, I don't really see bats around too often – let alone bubble bath taking bats! Come to think of it, I don't see SFW bath pieces that much. We should really clean that problem up!
What mainly makes this picture interesting is how the colors are restricted palette-wise, with everything generally coming from the same set of colors. And the character is a little more eye-catching because of how they have more detail both in drawing and color. Plus I really like the pose in this one.
6. Memories of Summer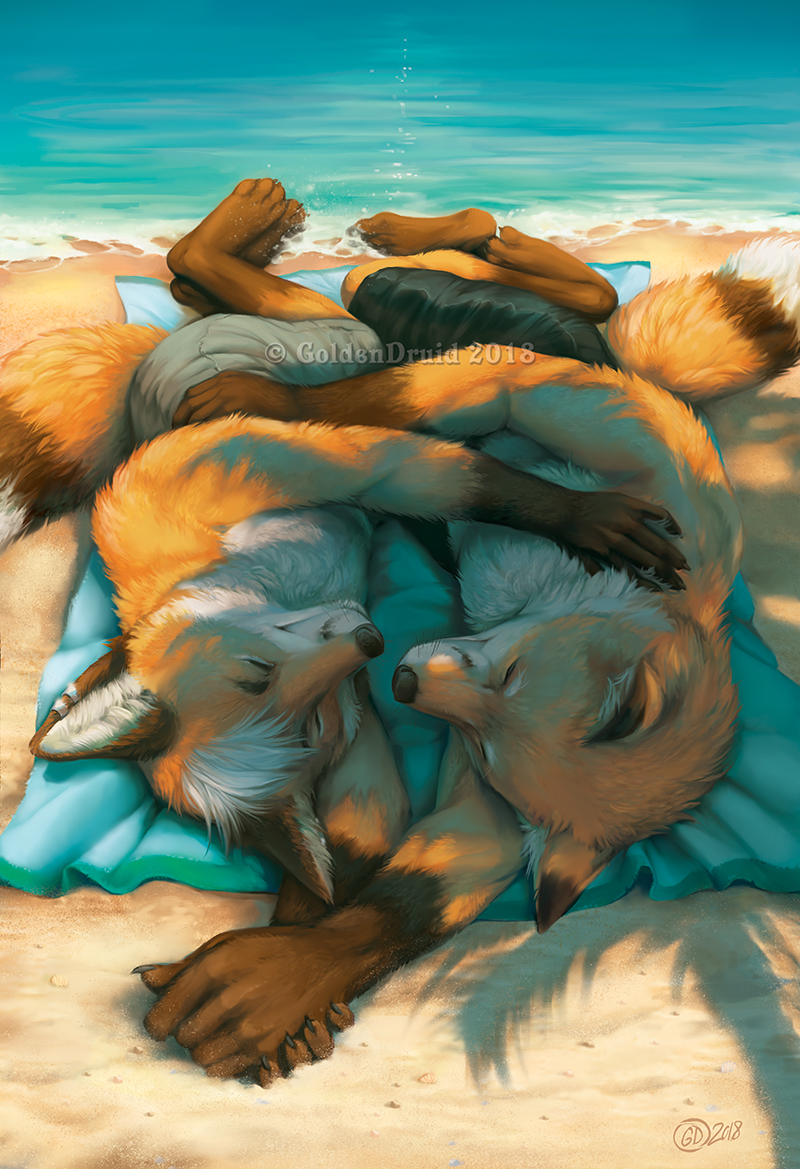 Up next we've got a rather wholesome cuddle picture brought to us by Golden Druid. Nothing better than being in the embrace of your loved one during a warm day at the beach! Quite a romantic set up if you ask me.
But don't get too lost in the romance – you might miss all of the detail, work, and shading that Golden Druid put into the piece. We really need more nice pictures like this set at the beach!
5. The Prettiest Shell
What happens when two shell collectors that happen upon a really good addition to the collection at the same time?
Another beautiful piece by Luthien Nightwolf, and also a crash course introduction for you all to Mermaid Furries. Or Furmaids. Or…Merfurs. We don't really have a set name for 'em to be honest, but it is something people do!
Luthien packs this piece full of beautiful detail and color too, from the merfurs' tails with their own unique patterns, to the way the hair and algae flows. I mean, the  little scales (spots) at theends of the merfurs' tails are also unique. Did you also catch the barnacles growing on the frame of the picture?
4. Juicy Day at the Beach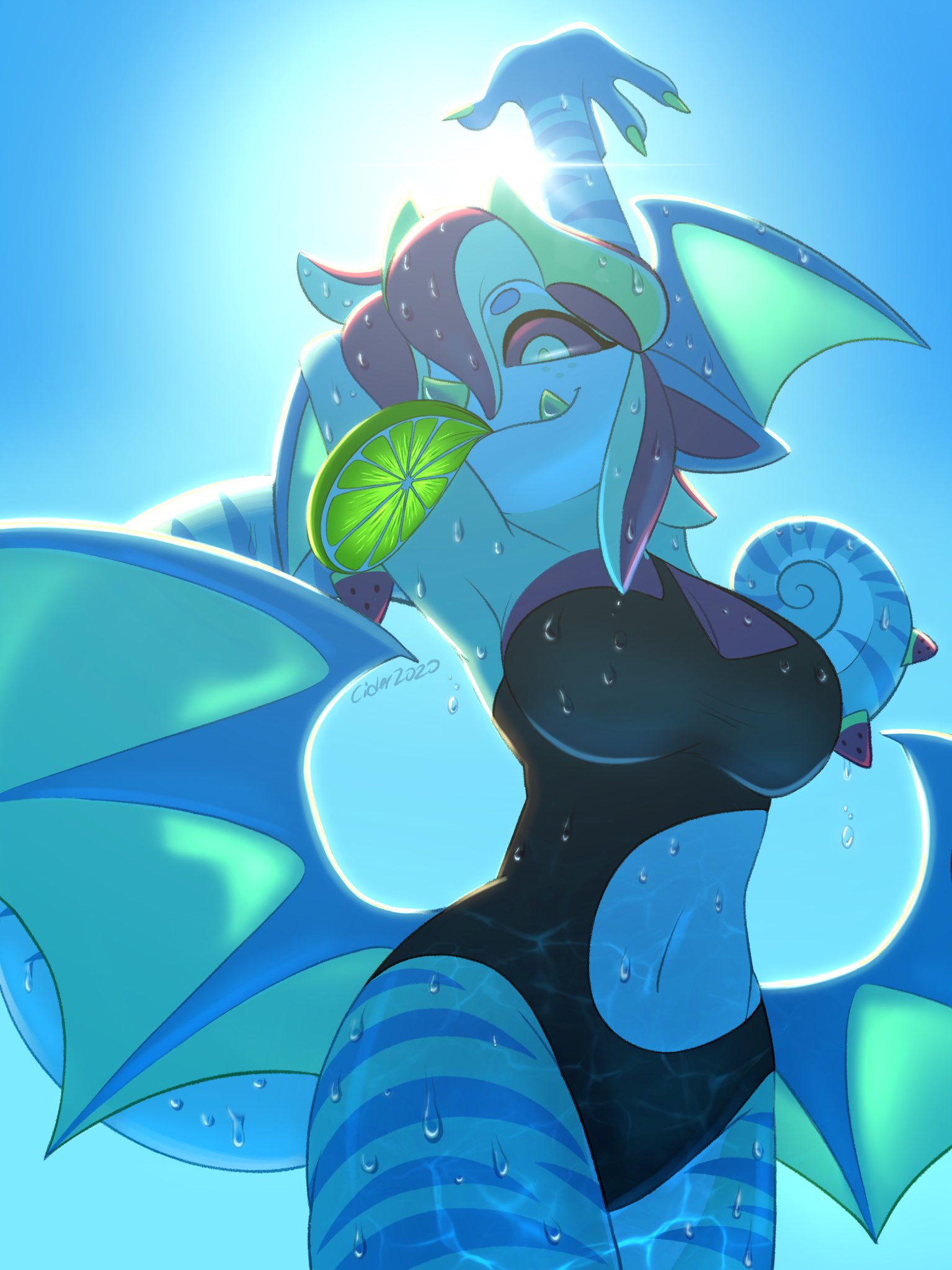 Splashing its way into the #4 spot is another beach pic! At least, I'm assuming she's at the beach. Maybe it's a swimming pool?
What really sells me on this one is how Cider Bun seemed to go to town with the lighting. There's a glow around the character due to the angle, and the wings even appear translucent in some sections. And then you have the reflection of the water on her lower body. Not to mention, I love how her tail curls as well, and has little strawberries instead of proper spikes/horns. And to top it all off – the character's pretty cute too, having been inspired by one of Seelnose's videos.
Also, we furries need more one-piece suit pics. Definitely not enough of those to go around I feel.
Looking good so far – but before we hit up the top three, let's take a look at some fine honorable mentions!
Metal and fur. Un poco de Evangelion en el ambiente 😍#mecha #furryart #furryartwork #90s #anime pic.twitter.com/E2ydr1AryJ

— Catto! (@catto_artplace) May 9, 2020
Mecha furries inspired by classic Japanese animes? It's more likely than you think!
Commission for : @ExtremeConcern

Thank you for the opportunity to work on this piece c: I had an absolute blast !! 💙

Higher Res : https://t.co/P2Uq9fl42B
———-#furry #furryart #art #painting #fantasy pic.twitter.com/Zmc63dmXal

— Naruka (@NarukaLewd) May 10, 2020
Looks like we're in for quite the magically-enhanced fight scene with this one!
Check out this spooky Haunter! Love the glow effects they used for that extra creepy factor.
I'm not really that big a fan of rainy days, but with pictures like these, I can see why people love 'em!
Finally got my markers in the mail yesterday. That took entirely too long.
Finished marker commissions for @SkunkStripess and @CooperSkai pic.twitter.com/qvu6n5sS4o

— ❄Pet the Kiki 2020❄ (@kikimochantweet) May 13, 2020
Kiki shows that they can not only rock a good digital drawing, but they can dish out the cute in traditional form too!
Desu Box must be on a Robinhood kick! Check out another lovely Marian pic but watch those thorns!
Now it remains to make an animation.. last time, I didn't manage to create a good animation of the shot, but this time, I'm determined to achieve a good result c:#Furry#Furryart#Furryartist#Furryartwork#Digitalartist#Digitalart#Stalker pic.twitter.com/tiX1KJ3cFj

— Anastasia Slepenkova (@Amarihel2) May 15, 2020
This reminds me of Call of Duty 4 honestly. Love the detail they got on the guns, too!
There were some pretty good runner ups this week, right? But let's now get into the top three pieces for this week, starting with:
3. Sunset Plains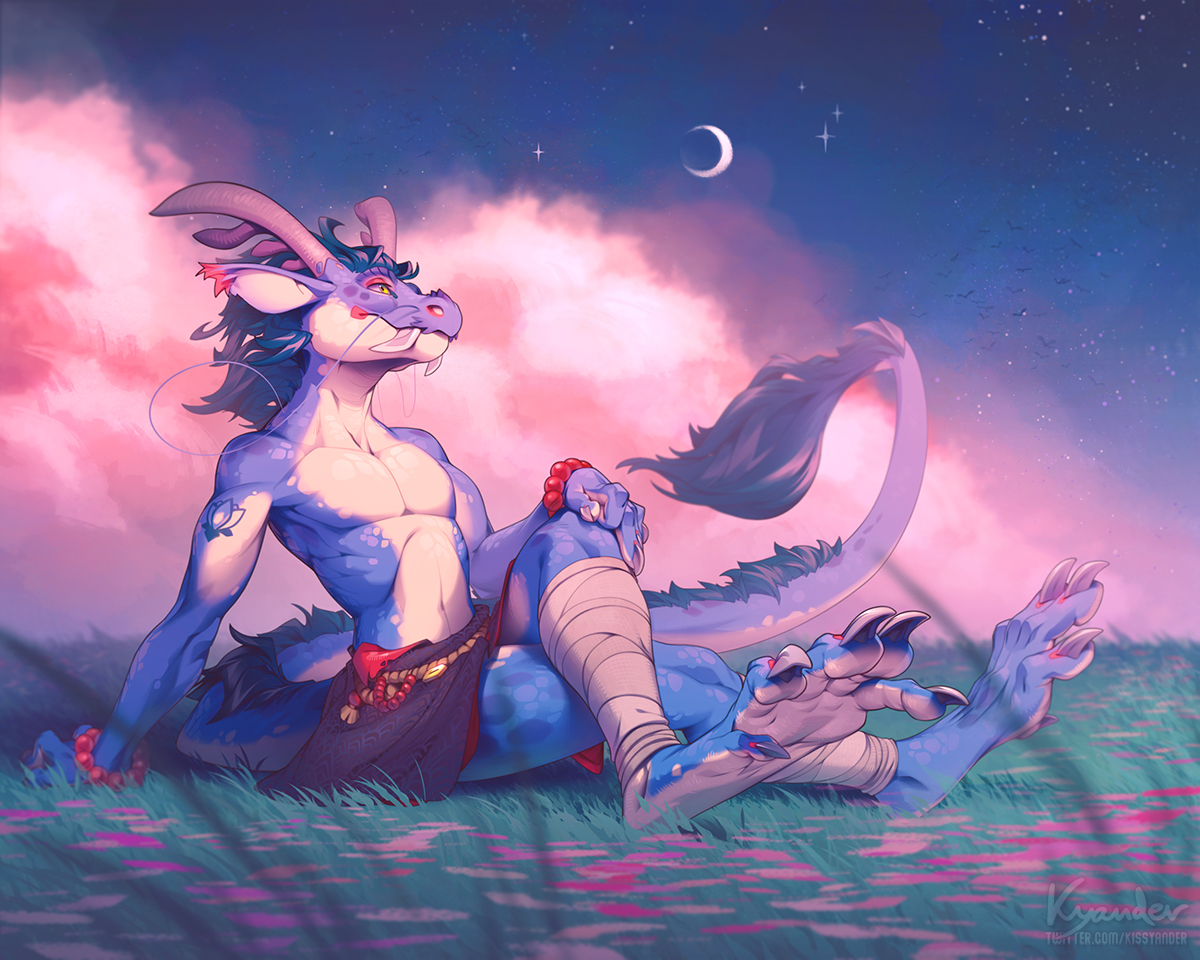 Kyander is back again with some superb art! I'm always curious to see what they're going to put out a the start of a week.
What really makes it all together, I feel, is the colors used. You have the pink clouds rolling in the back, and that blue turning-to-night sky, with he dragon being blue and white. It all just meshes so well together.
Kyander even did some lighting effect on the dragon as well – check out the upper half. Notice how it's just a little lighter and pinker than the rest?
Excellent work as always!
2. Get Together
Orphen Sirius hits us with another adorable cuddling picture for the #2 spot. What's not to like about this? You got an owl cuddling up with their griffin boyfriend. It's simply adorable!
I also really love how there's hints of a nightstand light or something on, judging by the slight light on the left. It just really brings to mind those nice cozy nights where you're with someone special, be they a friend or lover.
Also worth mentioning – Orphen Sirius does a lot of great SFW work, so if you're looking for more FA artists to follow definitely check 'em out!
And the #1 piece is….
1. Beauty and Wonder Amid All Sorrows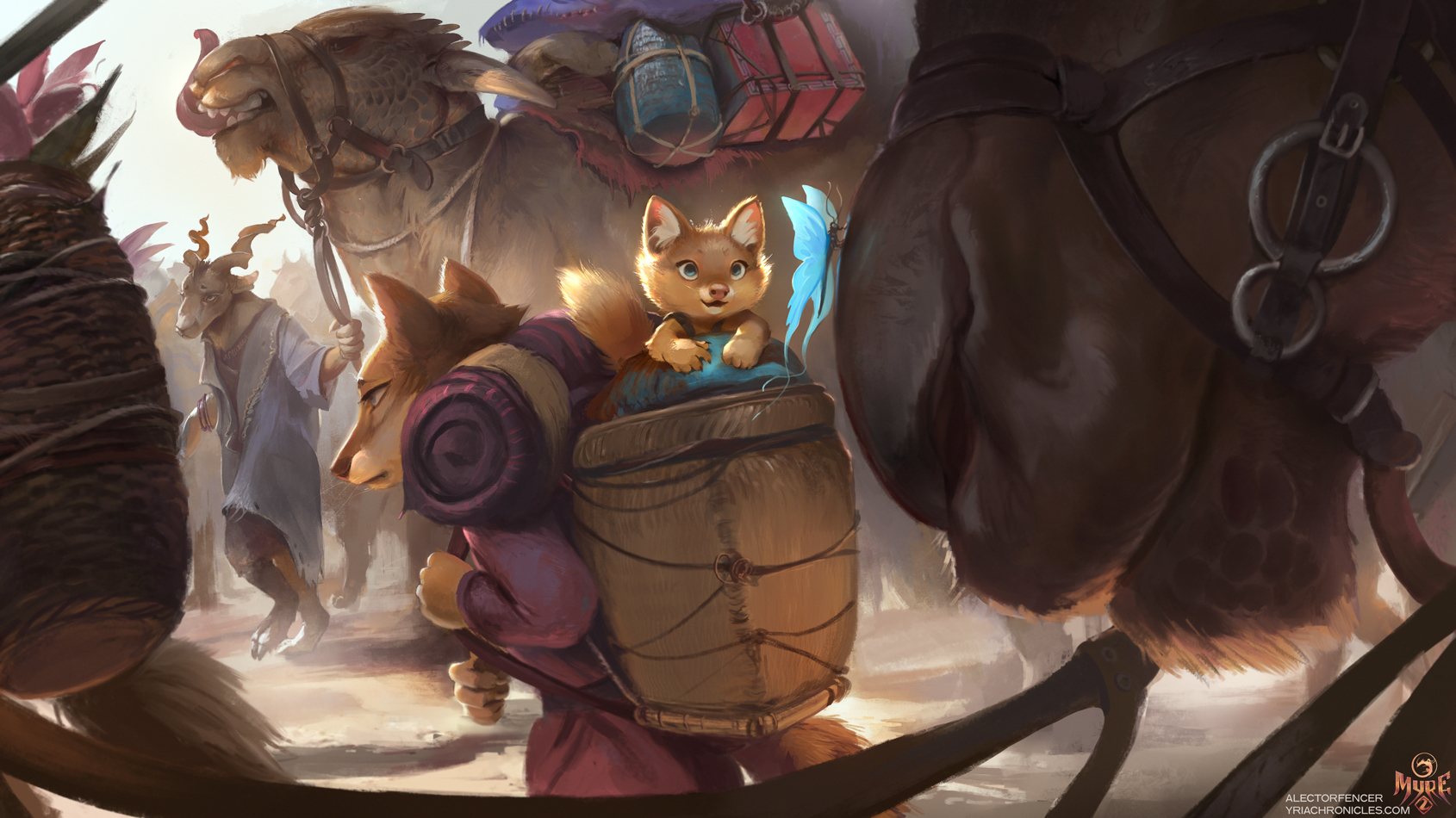 Alector Fencer with this amazing still shot from an upcoming volume they're producing, Myre 2. As one reply stated, this is simply cinematic!
Not only that, but Alector captures the emotion in this piece and the contrast between it eloquently. The child looks lost in wonder at all the sights around them, while everyone is wearing differing faces of wear and tear.
Not to mention all of the other details, textures, colors, and everything else that went into this picture. I think it's of my favorites done by Aelctor Fencer so far! Congratulations and well done!
With that, we've got another week wrapped up. Hope you found some new favs and some new artists to follow! A big shoutout to all artists on and off this list. Art is really one of my favorite things about this fandom and it's great seeing all the cool pieces that get put out every week.
Keep on arting and I'll see you all next week!