The first week of May opens with awesome night scenes, brilliant coloring, and all-around cuteness.
We are officially into the first week of May and it already seems like we're in for another great month. This first week opened with some pretty great pieces and a decent mix between some familiar faces and newcomers.
So, what kind of night scenes, color and adorable did I find this week? Let's take a look!
7. Cowboy Chibi Skunk
Starting this week off is this downright adorable chibi style drawing of Donut the Skronk's character. Honestly to me it kinda looks like a little kid, which is just as cute, but maybe that's because I'm used to different chibi proportions. I have no idea what a Skronk is…maybe a squirrel-skunk?
Either way, it's really adorable.
6. Legendary Forest Gallop
Looks like we've got another cute one on our hands here, this time brought to us by Ginja K Ninja. It's also the return of Pokemon fanart! Not only do we get this neat Virizion, but it's also done up to look like the shiny version of the Pokemon as well!
Honestly, I like this color palette a little more than its original look. There's something about pink, green, blue and white that just looks so darn good in comparison to the original one.
5. Crux of the Pose
What's a Crux you ask? It's a species created by Malluch, first appearing in the 3D virtual world Second Life. I honestly don't see Cruxes around very often, so when this one popped up on my timeline the species alone caught my attention. As well as other things. Definitely the colors.
It's done in a very high-contrast fashion, and when you're working with polar opposite colors like black and white, a high contrast approach only makes that greater. Plus I dig the hue of red used, and I love the way the black stripes spiral around the character's body, and how the tail curves around. Makes it a fun piece to look at, and the overall design reminds me of Beetlejuice for some reason.
4. Feel the Music
I've never played Beat Saber in my life, and as someone who will sink hours into Amplitude, I'm kinda ashamed. If only I could get a VR headset!
What's not something to be ashamed of is this great, intense piece by Hyilp. I love the sense of in-the-moment energy and momentum suggested by not just the pose, but also some of the unfocused blur and pieces of the blocks that are going here and there. Plus, the glow of the sabers and them being in the center creates one heck of a way to lock eyes on the piece.
Also I believe this is the first music video game-based art I've featured on this series…let alone seen in a while!
Before we get into the top three, let's take a moment to check out some other honorable mentions from the week:
The furred-back of Notre Dame? That sounds pretty intriguing – a little more so than a live action remake that actually is just a CGI remake. Really digging Frollo's look here too.
Gotta love it when you have some good ol' vending machine woes.
A bewitching piece that would've definitively fit in with the theme of cute for this week!
Nice to see Seelnose coming back with some new art! I love the zany creature designs they always come up with.
Okay, let's get onto the final three pieces for the week, starting with…
3. Rainbow Twilight
Series regular Kyander has done it again! Seriously, she produces consistently amazing works, and this one is no exception. Just don't ask me what's going on, because I literally have as much context as you do for the piece.
First, you have the colors that drag you in, with the glow of the setting sun right in the enter, giving the wall a surrounding glow. There are the rainbow colors on the top and then…are those roses grabbing him? What for? Why? What's up with this wall in the middle of nowhere?
There's a lot to ponder and think about, and not just on the color side of things. It's a very surreal piece and I'm always down for the surreal.
2. Big City
A fennec that looks slick, savvy, and badass? Instead of a small adorable cute fluff? It's more likely than you think, and when you give Saint Cocoa that set up and let them slap a nice night scene in the background, you've got one winner of a piece.
Cocoa comes at us with so many details on the fennec in terms of making their character look, well, furry. And that three piece suit design is just fantastic. If that weren't enough – check out that background. Look at all of those details, right down to sidewalk reflections. It's always great to see when an artist can not only do great characters, but great backgrounds as well!
But with a mix of cute and badass that begs the question: what is the number one pick? How do you top that? Well…
1. The Cutest Sushi Roll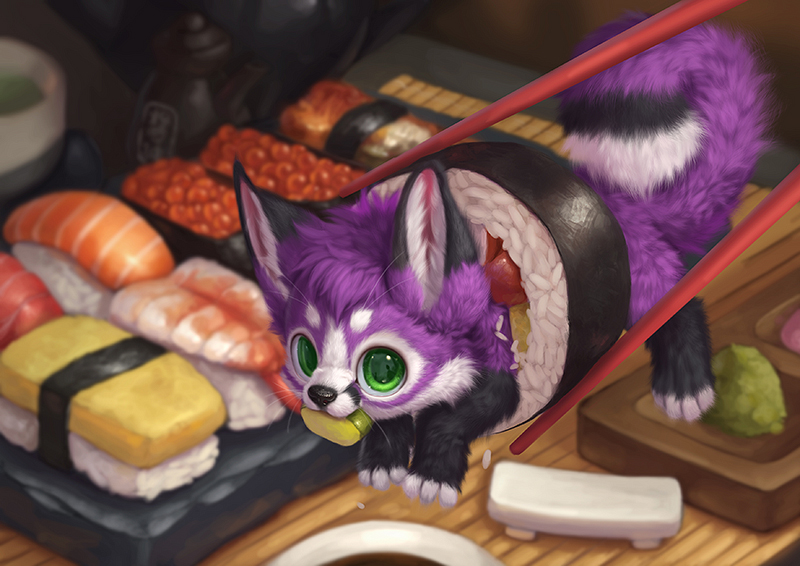 Darn it, sushi as the first week's winner again? But, this answers the question – you make your character all the more cuter, that's how!
Silverfox comes at us with this adorable little purple fox peeking their body partially through the sushi, innocently looking at the viewer with a bit of avocado tucked away in their mouth. But don't get too lost in those green eyes or you might miss the fact that there's reflections drawn in those eyes. Talk about the little details!
Not to mention all that sushi looks delicious, and is quite well drawn. But the ever-so-slight blur effect helps keep our focus and attention this adorable little mischief maker. Congrats Silverfox and well done on having your piece be the top favorite of the week!
And that just about wraps up another week of fantastic furry art. It's great to see that May is rolling it out already strong, but we'll see!
Congrats again to Silverfox and a big shout out to all the artists on and off this post. Keep on drawing and let's see what next week has in store!