Welcome back to another week of awesome furry art!
We're getting closer to Christmas, and fortunately, we've got at least one Christmas-themed piece on this week's list. Let's get merry and check out the art:
7. Wolf Three Blades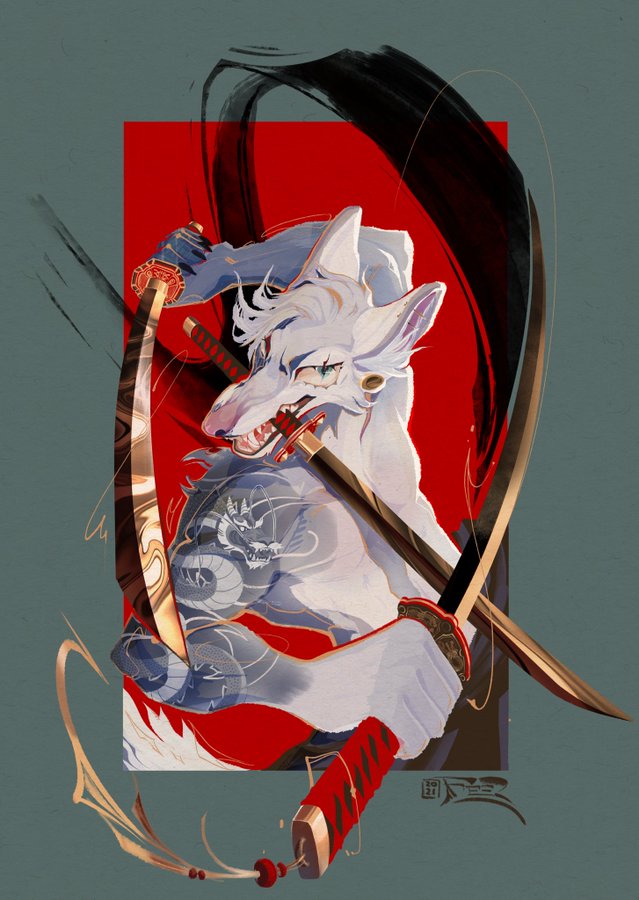 Starting off this week's list is a golden comission by Feer. Seriously – look at how well the reds and golds work together in this piece. They really pop in such a cool, eye-cathing way. Choosing a dark grey and red background also works well with the lighter colors of the wolf. Add in some cool effects, like the shine on the blades and gold, and you've got a really nice way to kick off the list.
6. Silver Bells
Leave it to Sixth Leaf Clover to deliver for the holidays – and deliver she did with this cute-looking reindeer. If you like silver, this is certainly the piece for you. She did a great job using mainly silvers and greys in this piece, using lighting, different shades, and even different material types to give a lot of visual variety. For example, look at the different kinds of shiny her hoofs and fingertips are compared to her harness.
5. Tiger Studies
Eruca gives us something to study for the #5 place on this list. And there's certainly a lot to study – such as the heav amount of detail in the piece. Just look at the nice engravings on the mirror. Of course, there's the obvious allure of the tiger himself, but hey, reflections can be tricky to pull off in art. Add in stripes, long hair with different colors, and a slanted pose for even more trickiness. Yet Eruca pulled this one off pretty good.
4. Hard and Painful
A slight warning with this one – this deals heavily with self esteem and has implied self-harm. If that makes you uncomfortable, feel free to skip down to #3.
This week Kyander put out a pretty hard-hitting emotional piece based around the idea of self acceptance. According to her, this isn't a piece about identity, but rather standards that affect your own self-image when you compare yourself to others. It's something a lot of folks have to deal with, in really any aspect of life. And Kyander brings her usual attention to detail and excellent colors to make this quite the intense, impactful piece. There's plenty of different ways to read into this – especially if you look where the scratches are. Is the character struggling with body positivity – or were these made out of frustration?
That's one of the interesting things about art. You can interpret a piece in different ways, even when told key details about it.
3. A Desire for Color
Talk about a bit of mood whiplash – we go from a heavy, personal piece to one that's more bright and less on the dark. And very colorful! Lots of color everywhere, which makes for a plesantly psychadelic piece. It looks like the start to a story or jouney of some kind, given the character has a little map in their hands.
Let the colors of imagination take you away to places of far off fantasy and adventure.
2. Goblin's Amulet
Speaking of fantasy, here's this wild fantasy commission by Feilong. Looks like a bit of chaos is going down as a mouse is trying to make off with some treasure. Better watch out mouse, that wolf looks serious about clobbering you! It's a fun and very well-done piece with lots of awesome-looking treasure, some cool designs, and even a bit of danger lurking in the background. Classic tavern madness.
1. Knockout
Cindy A Avelino delivers a knockout blow for the #1 spot this week. I think boxing's one of the most-represented sports on this list now that I think about it. But when you've got cool action pieces like this, it's kinda reasonable. It's just packed with so many details and colors that make it enjoyable to look at, such as the dragon's scales and the stitches on the boxing gloxes that add to the fantasy feel of the piece. I mean sure, there's a dragon, but little details like that help. Though that bear ought to raise his hands so he doesn't get pummuled.
Congratulations and well-done Cindy A. Avelino, your piece is the #1 pick for this week.
And that closes this week's list, bringing us closer to Christmas. We'll still be throwing out our lists, so maybe we'll see even more Christmas-themed art.
Hope you all enjoyed the list, and have yourselves a very merry holidays!