Five weeks of April? Seems odd doesn't it – but I guess that's what happens when someone like me kinda up and counts the weeks odd! 
What's not odd, however, are the great picks that I found this week. April's had some pretty top tier stuff this month so let's see how it finishes out, shall we? 
Let's take a look!
7. Feline Warrior Gathering
While I've never read Warrior Cats, that doesn't mean I can't acknowledge awesome art inspired by it when I see it!
This is one of those fun pieces to look at. The setting is rendered gorgeously, and I like how each of the cats are up to something different. There's something different to focus on each time you look at the picture!
6. They Bite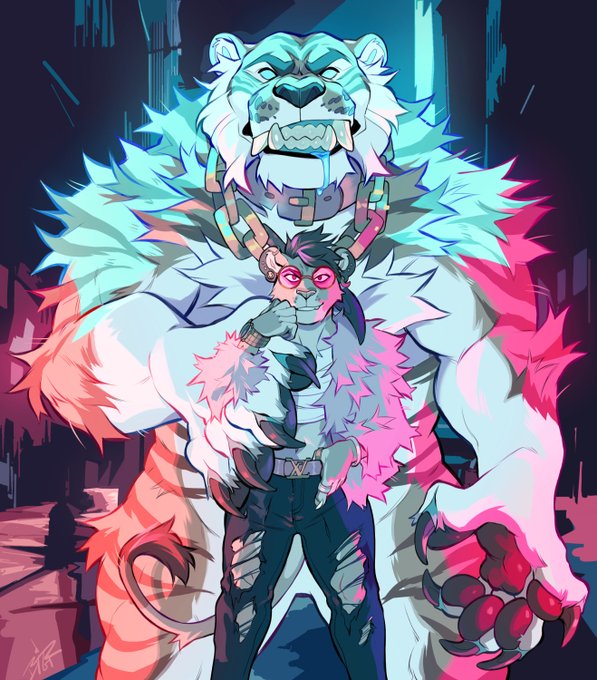 I feel like this is something out of a furry version of Jojo's Bizarre Adventure. Maybe it's the way the huge tiger is behind them with that bluish glow and pupiless eyes? Whatever is going on, it looks pretty cool, and I love how the colors change slightly between the top and bottom halves of the picture.
That tiger looks fearsome as well. Check out those large, fearsome claws! Those look like they can cause some serious damage with a slap or a scratch.
5. Disagreement
This is one of those instances when you really want to know what's going on, but unfortunately the commission page doesn't have much info. The tentacles in the book just add another layer!
Despite that, it's another pretty cool piece! I'm always a sucker for glowing effects, and I also love how the blue lighting arcs and wraps around the larger griffin. Plus, avian type fellows are always great to see around. Definitely need more griffins!
4. Play Another Hand?
Hey c'mon this piece technically fits in the theme – Poker can be seen as a battle of wits!
Lame reasoning aside, this is a pretty neat piece. Look at that bottle of whiskey (It's Blanton's, btw) and the detail they put into it. They even got the cursive script on the bottle.
That player (I think it's an otter) is nice as well. Looks cool, calm, and ready to trump more of your hands and rake in more blue chips. Watch out for this guy!

Before we take a look at the top three, let's check out some other awesome art.
Tarot card art is always awesome, and I love the way they depicted a Lycanroc as The Hermit.
Party with a character that's part cactus in the desert? Why not!
LinnGrimm dropped some new The Crown of Leaves art this past week. C'mon Serban you can do it!
A lovely looking draconic dancer? Why not! Don't get too allured, though!
Alright, now let's take a look at those top three picks!
3. This Is A Robbery!
Looks like we've got even more busy pictures for this week! I love how each character has their own look, their own pose, and their own gun. Really helps differentiate these characters and give them a little sense of identity.
Though I have zero idea who that gal on the top is shooting at.
It's also one heck of a way to make an entrance. Just blow a hole in the wall and go in guns blazing! I feel like this crew needs their own webcomic or something.
2. The Chase
Cheetah Paws is back with another great piece! Also check out the original Twitter post – this one's got some nice animation effects!

As usual, Cheetah Paws brings the piece to life with so many fine-tuned details and wonderful colors. And the poses coupled with the bits of debris give it a real sense of momentum and action.
Did you also catch that this is a conbadge design? That's one heck of a badge!

And now, let's take a look at the #1 piece for this week:
1. Passion Comes in Many Forms
Taking the #1 spot this week is this absolutely dynamic and awesome piece by KuroAme.
This was pretty much an instant favorite the moment I saw it. I know I've said I love action pieces, but I haven't really seen any so far that was so dynamic in how they rendered things. I definitely would like to see more dueling pieces like these.
The colors, the clothing, the different rapiers, and the expressions are all simply great. I'm not sure how accurate this is to real dueling, but it's a great piece nonetheless. Fantastic work KuroAme and congrats!
Looks like April was able to close things out with some great art. Nice to see it finish strong – and with that concludes the second month of this series.
Well done to all the artists both in and out of this article! Thanks for reading and I'll see you all next time for the start of May's pieces.