The second week of April has arrived and with it some pretty great pics.
It seems like there's quite some bit in terms of subject matter for this week, so let's jump right into things and see what I've found for you all this week.
7. The TigerRam
Starting off this week is this rather handsome fellow that crept on my timeline when I was searching for some good art to feature for this week.
Artist and creator Kikimochan describes him as a TigerRam and…that's all we know really. Apparently this will be a character that they'll be auctioning off in the near future. You'll need to spend some decent amount of cash for him though; the starting bid is $250 and I feel that it would quickly rise above that number!
I really dig the design of this fellow. The stripes almost guide your eye around his body, and it's interesting seeing how Kikimochan blended elements of the tiger and ram. 
6. Beautiful Death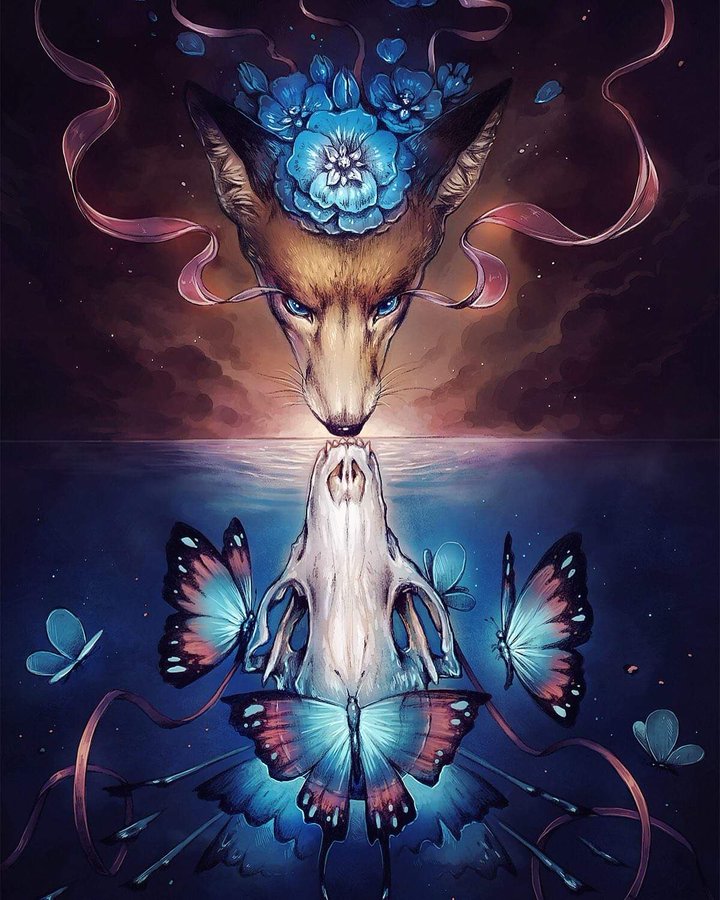 Jonas is back this week with another interesting piece, taking in the number six spot for this week's list of picks. 
But much like the piece featured last week, there's a lot one can get when you stop and really break it down. It's not just a simple picture of the duality of life and death, but of other dualities. The ocean set against the sky, red set against blue, and butterflies set against flowers. 
It's also the second piece of this week that has plants in some form or another. Hmm…I think we might have a theme going on here. 
5. Jetski Duo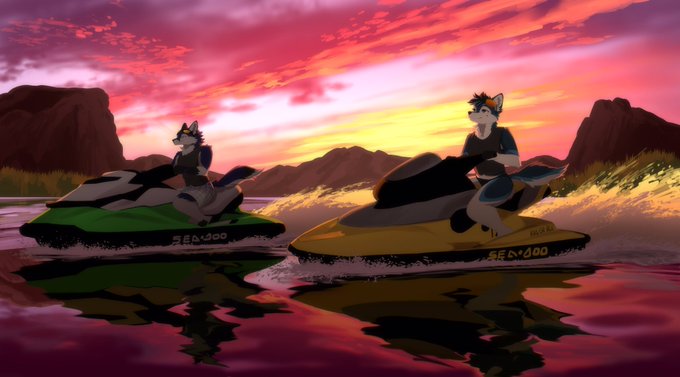 Racing into the number five spot is this pretty awesome piece by Akitamonster.
While it does break the potentially on going  theme of plants, it's still a great find. I really love the way the evening sky is rendered, and, are those reflections in the water that I see? 
Plus, this is quite the action piece, and you all know how I love my action pieces. 
5. Rainy Day Fox Boy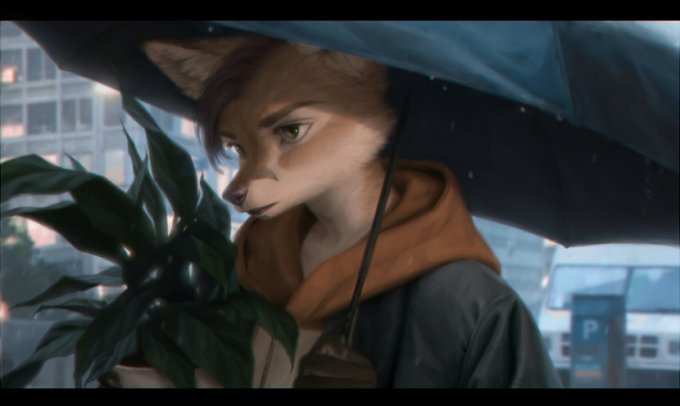 Washing into the four spot is this near-photographic piece by Soft Tigers. Also, we've got another plant! The theme goes on. 
I don't plan these, I swear. 
But what's there not to like about this piece? The exquisite amount of detail is fantastic. And it's easy to get lost in the fox's rather contemplative look. 
As always, before we get into the top three we'll take a look at some other great art worth mentioning. 
Sexy Saturday.
Which egyptian god is your favorite and why? Anubis is a definite a fav because he is the lord of the underworld obviously!
More of him in my store, check it out! pic.twitter.com/kRfR4a4d3i

— Space lizard ✨🦎 Streaming on Twitch 🎙️ (@sixthleafclover) April 4, 2020
Previous winner Sixth Leaf Clover had some pretty awesome pieces. But this Anubis drawing was too awesome to pass on. 
Commission for @Fidelco85 !
It's better for you not to mess with this demon lady 🔥😈🌋

➡️ Sketches, Hi-res, PSD files and timelapse videos – https://t.co/iL4xk9cFTh pic.twitter.com/WAPXLDyGN5

— kyander 𓃠 commissions CLOSED (@Kissyander) April 6, 2020
While Kyander may not have hit the top seven for this week they still did this pretty hot pic!
Eh, see what I did there?
Not sure if you guys remember this bug lady I drew last year but I wanted to draw her again! She's an Astrologist who steals constellations to decorate her shell with! pic.twitter.com/BmGz01Ly5m

— ジャンクヤードラビット (@JunkYardRabbit) April 6, 2020
Insectoid characters can be few and far between in the fandom, unfortunately. But his lovely buggy lady was definitely a nice sight!
"I think we finally found the cure!" Commission for @KeizenMikazuki pic.twitter.com/guUHmozOwx

— Silverfox (@silverfox5213) April 6, 2020
If you want something cute and magical, why not check out this spellbindingly adorable piece by Silerfox?
Now, let's take a look at those top three pictures. 
3. The Plant Mage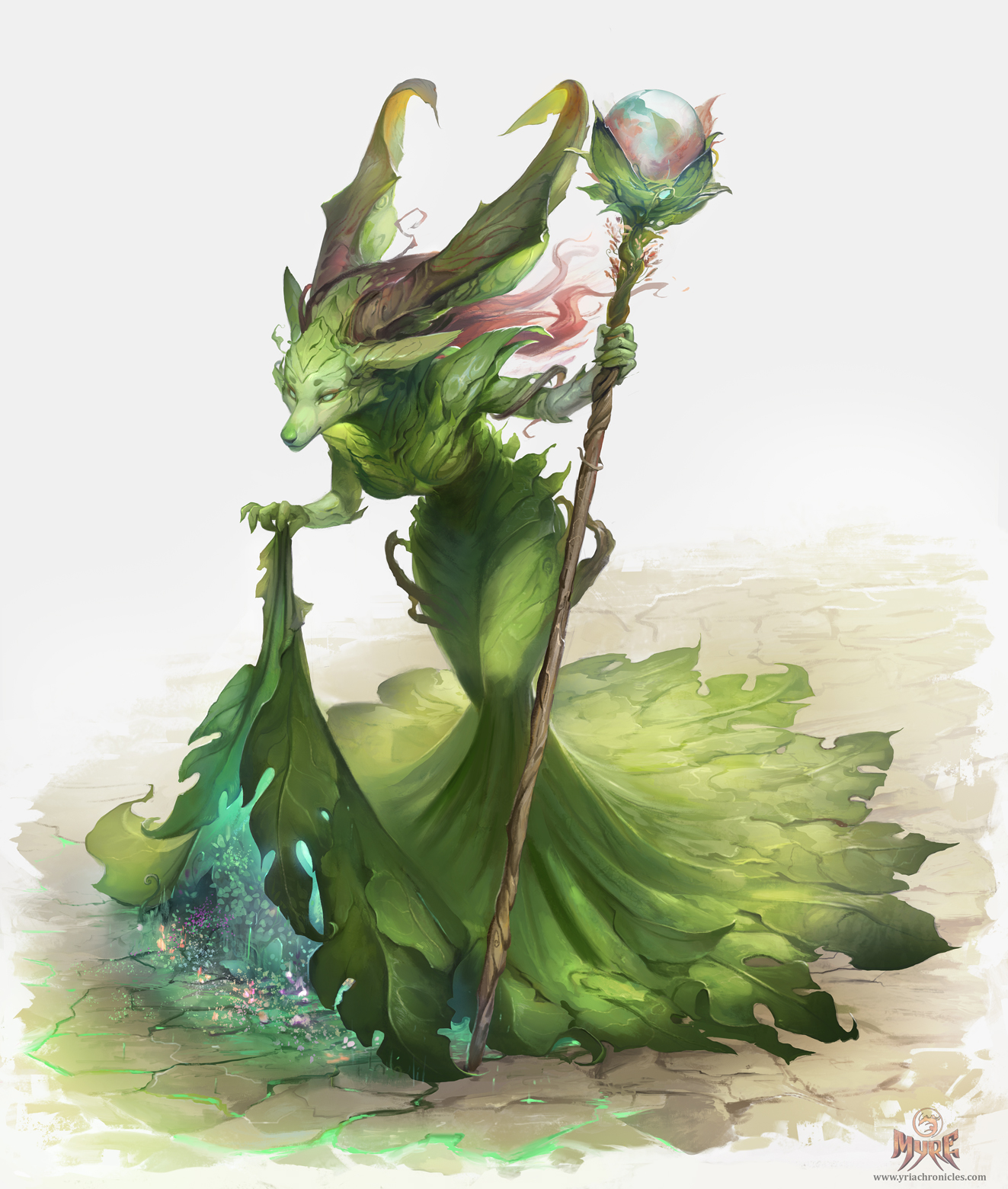 Alector Fencer had this post up this week where three of their previous pieces were entered into the Spectrum 27, a pretty awesome annual art book. And of the three, this was the piece that got actually nominated to be entered into the publication. 
Plant type creatures are always a plus with me. But the level of detail and the skill in this is great. And I love the design of this plant/anthro critter as well. Plus, look at all of those little plants growing under their skirt. 
Truly this feels like one of Alector Fencer's best, and good luck to them! Hopefully they make it in.
2. April Showers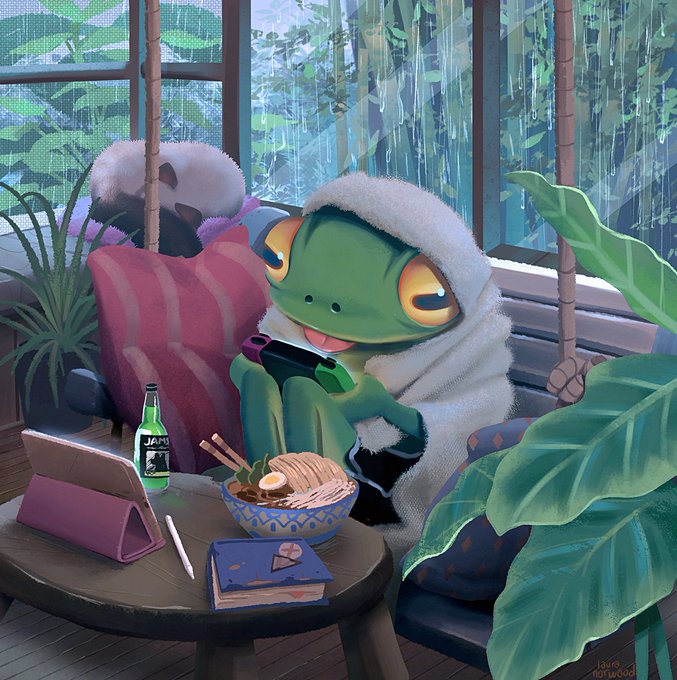 Coming in at #2 is a piece I think most of us can identify with. Definitely suitable for the times we're currently going through. Also, plants! The theme lives on. 
But what really makes this great is how comfy and cozy this picture looks. What's better than wrapping up with a warm blanket, playing some video games, and having a hot bowl of ramen? 
Y'know ramen and other Asian foods tend to pop up on this series too. I don't plan it, I swear. 
Also, that frog is just plain adorable, which is the sweet icing on an already great cake. 
And the number one piece is…
1. Rainy Day Alley Walk
Washing into the #1 spot is this fantastic rainy day piece by Oliviern. 
Hm, y'know water seems to have also made its way into this week's top hits. And rain, to be more exact. 
There's just something about this piece I really like though. I almost feel I'm right there in some alleyway in Tokyo or some other similar place, trotting along as the rain drizzles down. 
There's also a lot design and aesthetic wise going on too. Hey, check out the dog's tail – did you catch all those charms on there?
Something of a fitting piece for April Showers and all that, eh? Well done Art Oliviern and congrats! Also big shoutout to the other six favorites and to all the other pieces that were still kickass in their own regards. 
And that takes care of another week. Wow! We're already halfway done with April – and that means almost halfway done with another month of furry art. 
Let's see what future art storms will bring shall we?