Time to kick off March with some more great furry art picks!
There's some pretty great art that was posted this week so let's get right down to it and check it out!
7. Always Wanting More
First off we've got this great Magnum Bullets-inspired piece by LostNevada. What's there not to like about this one? A fantastic burst of neon-infused color that really stood out on my timeline.
Very reminiscent of the final moments of the music video that cumulated in a just as trippy shot fired by Triangle here.
6. Magician Commission
Check out this awesome magic user-space infused commission done by Ferbulo. I really dig the blue that's prevalent in this image and the cosmic space theme as well. It's like a two for one deal for me. Get a load of all of those little stars and cosmic runes too.
It's definitely a piece that invites a very mystical and magical atmosphere.
5. Couples' Dance
Coming in at #5 is this sweet couples' dance that we were treated to by CupcakeCreature.
There's a lot to like about this one. I love those purple outfits, all the detail that goes into them, and it's not often that I see an in0action dancing pic. I also really dig the detail put into the background. Look how cute those two are together!
4. Vapreon's Day
Pokemon Day happened on Feb 27 – did you catch any cool art during this period? I know I did – check out this awesome Vaporeon that Caraid did in honor of Pokemon day. A little late but hey – better late than never, right? Our Vaporeon friend here seems happy and eager to swim up and catch some vibrant sun rays.
Also, what is it with Pokemon fan art and my top lists? I don't go out looking for it specifically – I guess a lot of Pokefans just do a lot of great art!
Before we get into the top 3 pieces let's take a look at some other cool art I found during the week:
I remember reading Rikki Tikki Tavi once when I was younger, and it was really neat seeing this short three-picture piece done by Terribleanimal. I'd definitely love to see more art based on classic stories and tales!
Reference sheets are always a cool way to check out a character – but it's not often that you find one this detailed! Now that's pretty great. Keep them on their radar if you want some reference sheets.
I see a lot of artists who experiment with basic animation with their pictures. But I love how they made this character's mane flow like wind's blowing by it.
Some things are hard to capture even with a good scan. Let the video play and keep a close watch as the gold on this gal's gown shines when viewed at certain angles.
Now, let's check out the top three picks for this week.
3. Saved By One's Own Invention
Who said sentient robotics were bad?
Check out this beautiful painting that Sixth Leaf Clover did as a commission. Looks like this inventor has a house fire – but no worries, their mechanical creation is on the rescue! Love the detail of the armor and how ornate it is.
2. Quiet Night by Lantern Light
#2 goes to this lovely, partially-animated night time pic by Celestial Call. What a calm and relaxing, romantic evening!
It's a wonderfully rendered picture, and the extra details – shading, lighting, etc – really help it stand out. The animation is cool, but like with the circus pic from last week even as a still image, there's a lot to look at and love. Definitely something I'd get as a print.
And the #1 pick for this week is…
1. The Evil is Trying to Find You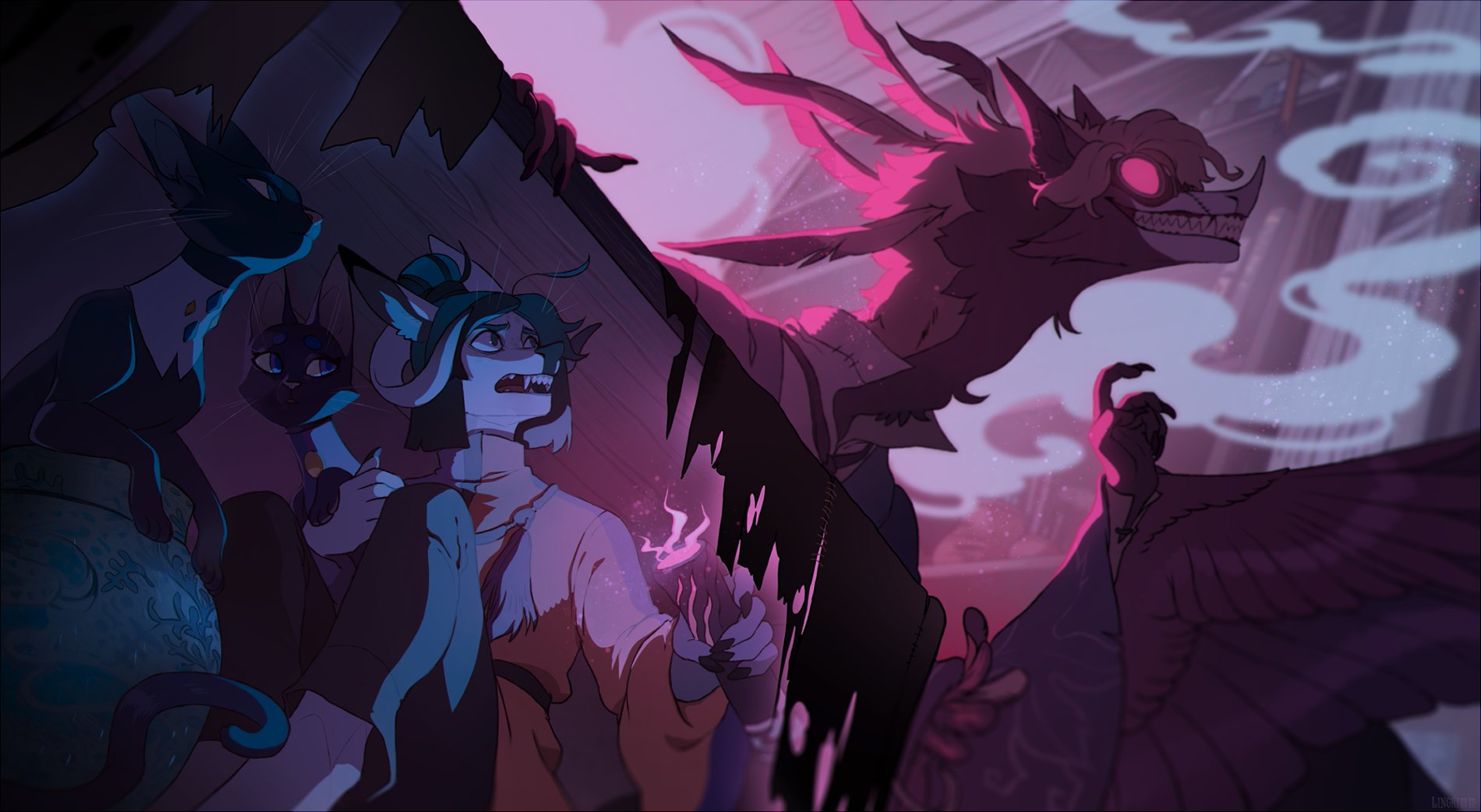 Taking the #1 spot this week is this absolutely fantastic piece brought to us by Lingrimm, the very same duo behind the indie point and click game The Crown of Leaves.
Not only is there a lot going on in this image on a surface level, but on an artistic level, there's quite a bit happening. Our friend here has a panicked face as they hold a magic scroll giving off energies while a large creature, known as Ing, is looking for them.
But get a load of those details! The lighting, the colors, there's even a slight blur effect on parts of Ing, giving the picture a sense of depth as well.
Very well done Lingrimm. Congratulations!
And that will do it for this week! Hopefully, you've found some new favorites – I know I have! Which ones were your favs? How would you have ordered the top 7? Any groovy pictures I missed? Let me know in the comments!
Just watch out for the feathers down there.