It's been a pretty crazy week huh? Regardless, I've still got some great furry art picks for you to have a look at.
So let's take a breather from things and check out more skilled artists, shall we?
7. Neon Tapestry
Starting the week off is this great vaporwave-inspired tapestry. How can you not like something like this? It looks so darn cool!
Temrin offered this in a silent auction this past Vancoufur on March 8th. Congrats to whoever the winner was! I wonder if they'll sell prints of it?
6. Gathering the Harvest
Coming in at #6 is this fantastic squirrel done by Marc Knelsen, who also worked as the character designer and concept artist for the indie fighting game Rivals of Aether.
I love the colors on this one. Giving the squirrel lots of green and putting them against a red background sets up an immediate contrast, in addition to the red bracelets and the red charm on their forehead. The way the nut is the icing on the cake.
5. Plant Care
If you're looking for some well-done adult art, Niro's a pretty good artist to fit that need. But they also produce some pretty good non-adult art from time to time, as you can see here.
Who knew plant care could be full of such vibrant colors? The characters are pretty cute, and that's always an added bonus as well. Personally, I like the cactus. Which one is your favorite?
4. Amaterasu's Portrait
Traditional art always gets my attention – and this one wasn't done digitally! According to the artist, this was done with colored pencils and watercolors. I think it came out really great!
Being able to pull off such a detailed pic with all these fantastic colors digitally is a feat in of itself, but doing it by hand makes it even more awesome. We could definitely use more traditional art like this.
Before I get into the top three pics, let's take a look at some honorable mentions.
Lingrimm unleashed yet another fantastic piece featuring their snake-like Inu character. This piece would've ranked high but remember the rules – Lingrimm already won this month, so I want to try to share the top spots a little.
Kyander sure knows how to make some great action poses. I'm totally loving this bat gal!
Pixel art is always great. Throw in some high res pixel art and bright colors and it's a fun time.
This piece was just so creepy and cool looking I had to include it. It's got quite the arcane look about it.
Now, let's get into the top three pieces.
3. Mane of Leaves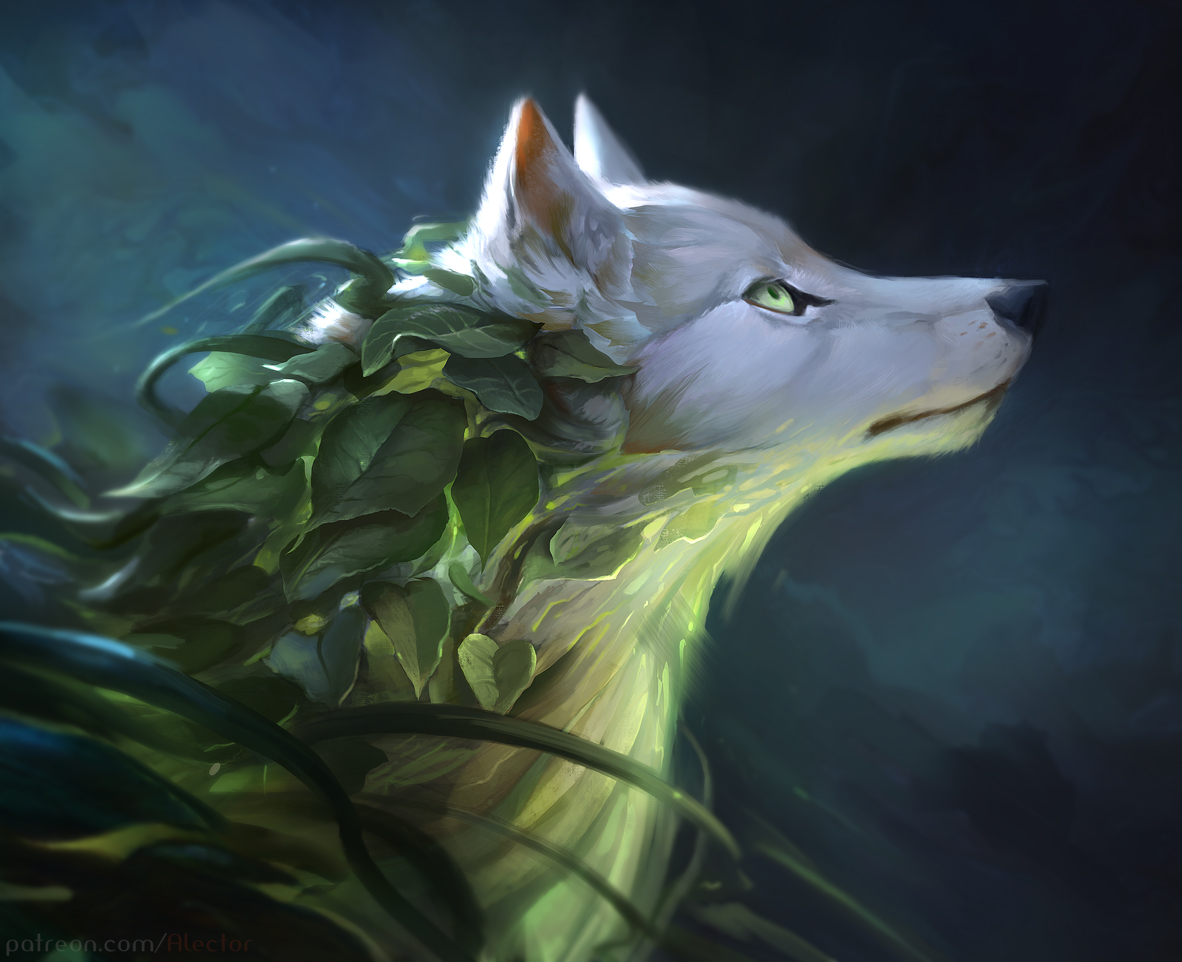 First on our top three is yet another wonderful piece by Alector Fencer. Seriously, if you're like me and you love art involving plants and plant type creatures, give them a follow. This beautiful piece is actually a picutre of their very own fursona.
2. Skaven Plague
Coming in at #2 is this pretty badass drawing of a Skaven Plague rat.
What's there not to like about this? I love the darker colors, the glowing evil green eye, and those fierce-looking weapons. I don't know if it's because I've been in a Redwall mood or not, but this one's definitely badass and definitely one of my favorite pieces of the week.
And the number one pick this week is…
1. Skulk
Coming in at the number one spot is "Skulk" by Sablez.
It seems that the arcane ran throughout this week's picks, culminating in this amazing traditional style piece. It also continues the badassery seen in the #2 pic.
The magic and the arcane is something that's always interested me, but what else lured me in were the colors used and the extreme amount of detail. That glow of blue around his neck is also the icing on the cake.
And that will do it for this week's picks. Seems that the traditional style took the top spots this week. I wonder who will take the top spot for next week or what other kinds of cool styles I'll encounter?
You'll just have to be there to find out!
But what were your favorites? Did you see any that aren't on here? Let me know in the comments! I'd love to discover even more great art.